Graduate Program
Your introduction to a world where science and technology meet financial markets.
2018 Brochure
Download our Graduate Brochure here.
Join The Team
Find out how you can join Systematica.
Ready to Apply?
We are now accepting applications for 2018.
WHY JOIN SYSTEMATICA?
Systematica launched in January 2015, but our flagship fund has been around since 2004, so we have a long and successful track record in this industry.
We are a leading global investment manager, but with the dynamism of a start-up, and we're looking for enthusiastic, bright and ambitious people to join our team.
We offer a highly professional working environment with intellectually-challenging roles. Our pursuit of excellence drives everything that we do.
We offer an attractive compensation package, including a bonus program and competitive benefits scheme.
What are we looking for?



Mathematics




Physics




Engineering




Computer Science
Broadly speaking, we seek quantitative minds, strong mathematical skills, some programming skills, and, more importantly, strong ethics of team work. We look for intellectually curious, ambitious, and enthusiastic individuals. By being part of our graduate program, you will gain an insight into financial markets, have the opportunity to collaborate on special projects, broaden your skill set, and work with some of the most innovative minds in our industry – all whilst gaining valuable professional experience.
WHERE COULD YOU SEE YOURSELF?
The entry route for graduates is well defined for the Research Division and for the Technology Division, but we have an open mind towards candidates that might fit into Operations or Client Services.
Generally graduates with a postgraduate degree and a passion for research and data analysis will make their way into Research. Those interested in software development and data modelling will naturally drift towards Technology.
GRADUATES JOINING RESEARCH
For the ongoing improvement of our quantitative trading models as well as for conception of new ideas, we welcome highly-talented graduates with a passion for research and data analysis. Candidates joining research will often have a postgraduate degree, but this is not a prerequisite.
Topics of specialisation include:
Statistics
Signal Processing
Optimisation
Operations Research
Machine Learning
GRADUATES JOINING TECHNOLOGY
Systematica can be thought of as a financial technology firm. Our systematic investment approach depends critically on the interaction of our quantitative models with high-powered computer systems.
As such, our technologists show a passion for devising technology solutions, display deep business domain knowledge, and are well integrated with the research team.
OUR TRAINING
At Systematica, we believe in ongoing improvements – not only to our trading models, but for our people too. Training for our graduates aims to give them the regulatory grounding in the investment management industry, some programming techniques, and a broad overview of financial markets.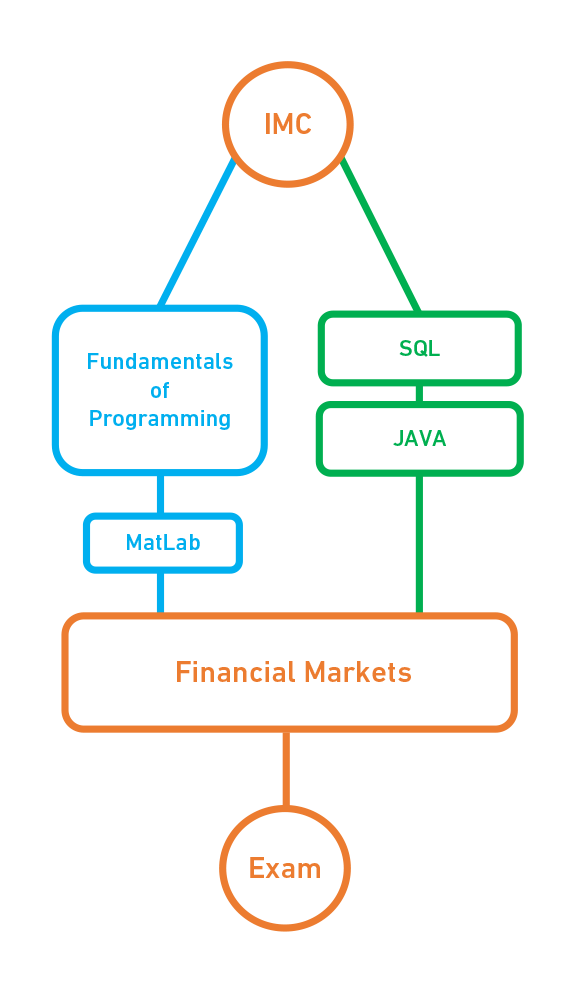 Module 1 – IMC
As a first training module, all graduates joining the firm are asked to take the IMC – the Investment Management Certificate. The training for this two-part exam takes up the first month and is composed of some self-study time and classroom work.
Module 2 – Programming Skills
After the initial module, graduates are streamed into Research and Technology. Research graduates receive MatLab training while Technology graduates are trained in SQL and Java. Wherever possible, the training sessions are combined with small on-desk projects to give graduates a feel for the real problems they will be tackling.
Module 3 – Financial Markets
All graduates are asked to take this comprehensive eight-week course on financial markets comprising equity and capital markets, derivatives and the regulatory aspects of fund management. An examination is taken at the end of the course.
Thinking of further training?
Many IMC holders continue their professional development by studying for the Chartered Financial Analyst® (CFA) Program. We encourage and sponsor our staff to take the CFA® Program.
SUBMITTING YOUR APPLICATION
The application process begins by sending your CV/resume and telling us a little more about yourself – we're interested in your educational and professional experience, projects you may be working on, how you would like to develop your skills, and why Systematica appeals to you. Our aim is to make this an enjoyable and educational experience throughout all stages of the application process, so don't be afraid to ask questions along the way.
Assessment
After your initial application, you may be asked to join us to take part in an assessment day, where you'll have the chance to meet members of the team and test your general knowledge.
For those interested in joining our Technology Division, your assessment will include a coding exercise incorporating SQL and/or Java, as well as a selection of complex problem-solving tasks.
For those interested in joining our Research Division, we will be expecting a foundation of general knowledge – please click below to see an example of possible assessment questions.
Ready to apply? We are now accepting applications for our graduate program commencing in September 2018.